The Pros and Cons of Getting Small Breast Implants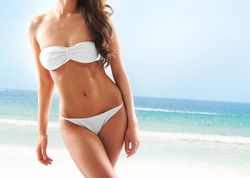 When patients visit Dr. Tracy McCall, they can count on receiving excellent treatment, including ample information about their options for surgery. This is why so many patients in the greater Milwaukee area trust Dr. McCall when it comes to their cosmetic surgery needs, from facial plastic surgery and anti-aging procedures to breast augmentation that enhances curves, femininity, and overall body contour.
We've previously considered the pros and cons of getting large breast implants on this blog. Right now, in the interest of fairness and because patients have asked us about it, we'd like to examine the pros and cons of getting small breast implants.
The Advantages of Getting Small Breast Implants
The advantages of getting small breast implants are as follows:
Results May Look More Natural - When patients get breast implants that are smaller in size, the overall results of the surgery may look more natural. This is because the breast size is enhanced yet the general proportions of the body remain similar.
Less Chance of Complications - With small breast implants, issues such as implant rupture and breadloafing are less likely.
Reduced Risk of Revision in the Future - Large breast implants are heavier than smaller implants, which can lead to issues of drooping, sagging, and bottoming out later in the patient's life. These issues are less common when patients get small breast implants placed, meaning that aesthetic revision is not usually necessary.
The Disadvantages of Getting Small Breast Implants
The disadvantages of getting small breast implants are as follows:
Results May Be Too Conservative - Sometimes the results of the breast augmentation surgery with small breast implants are not dramatic enough. In these cases, there is a change, but it is very miniscule and may not be desirable overall.
Patients May Regret Not Going Bigger - Related to the previous point, patients may wish that they went a little larger with their breast implants, noticing that they could have had more prominent bustlines without sacrificing aesthetics or naturalism. In these cases, patients may even go back for a secondary procedure to get large implants, which should ideally be avoided by getting the size right the first time.
Other Factors to Consider Apart from Implant Size
As previously noted in the blog post about large breast implants, the following can have a major impact on the results of breast augmentation surgery apart from the size of the breast implants:
Breast implant profile
Breast implant shape
Breast implants placement
Customizing the Surgery to Suit Your Needs and Goals
During your consultation with Dr. McCall, she will carefully consider the various factors that may affect the overall quality of your breast augmentation procedure. Dr. McCall will inform you of all of your options in full detail before going forward with any procedure so that you can make a wise and informed decision about the surgical process.
Contact Dr. Tracy McCall
To learn more about breast augmentation surgery and how it can help you achieve all of your aesthetic goals, be sure to contact our cosmetic skin care and plastic surgery center today. Dr. McCall and her entire team look forward to meeting you in person and helping you look your absolute best.
Related to This