Popular Mommy Makeover Procedures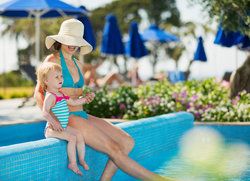 Along with the joys of parenting, motherhood also comes with a lot of stress and occasional frustration. With everything already on your mind, why worry about your body too? Pregnancy can leave lasting changes on a woman's body, contributing to retained fat, sagging skin, and sometimes an entirely new curvature altogether. And while diet and exercise are at the core of physical improvement, sometimes they are simply not enough to achieve your desired results.
If you are looking to get your body back after pregnancy, consider a mommy makeover procedure at our Waukesha office outside of Milwaukee. By tailoring your treatment plan to your specific needs, cosmetic surgeon Tracy E. McCall will help you move one giant step closer to your personal goals.
Tummy Tuck
Also called abdominoplasty, a tummy tuck is a popular procedure for those looking to remove loose or sagging skin on the stomach. Because the abdomen undergoes more stress than any other body part throughout pregnancy, it's common for the skin to lose its elasticity, consequently forming pockets of loose tissue. Depending on the size and area of excess skin, one of three methods may be utilized:
Full tummy tuck: In a traditional tummy tuck, an incision is made across the front of the waist, from which unwanted tissue is removed and the abdominal muscles are tightened. An incision is also made around the belly button, as it will be repositioned afterward.
Extended tummy tuck: The incision is extended around the hips, allowing tissue to also be removed from the flanks and lower back.
Mini tummy tuck: A relatively small incision is used at the center of the waist, providing a much less invasive surgery to remove a smaller amount of tissue in the lower abdomen.
If patients want to have a tighter stomach but a significant amount of fat is also present in the area, a tummy tuck may be combined with liposuction for optimal contouring results.
Liposuction
Liposuction is used for the removal of unwanted fat, typically in localized areas of the body. After pregnancy, women commonly find stubborn pockets of fat located in the stomach, thighs, buttocks, or hips. By contouring these areas to better complement the body, a skilled plastic surgeon can dramatically enhance a person's overall proportions.
Liposuction utilizes a thin tube called a cannula, which is inserted into the target area. The cannula is used to break up deposits of fat before removing them, and then contouring the remaining tissue into smoother, more desirable curves. Speak with your doctor about the specific liposuction techniques available, as different surgical methods can hold different advantages and disadvantages.
Breast Enhancement
As a woman's body undergoes sudden and significant changes, it is likely that her breasts will also be affected. After pregnancy, breasts may experience a number of lasting effects. To restore your breasts to their previous form or to take the opportunity to enhance them, we offer breast augmentations and lifts:
Breast augmentation: This treatment is ideal for women who wish to have breasts that are larger, more symmetrical, or better shaped. With the numerous options available concerning augmentation, we can help you achieve the look you desire.
Breast lift: If you are content with the size and shape of your breasts, but are dissatisfied with the way they sag after pregnancy, a breast lift may be right for you.
For women looking to both raise and augment their breasts, a combination of treatments is equally viable.
Create Your Ideal Makeover
Every woman's body is different, and we seek to reflect that in our customizable treatment. In addition to the above options, we offer skin rejuvenation, lower body lifts, and a variety of other cosmetic procedures. No matter your desires, we aim to provide the highest quality of personalized treatment. Contact us to schedule an initial consultation and get started on creating your own mommy makeover.
Related to This